You know when you're at a party and someone asks "So, what do you do?"
I make music.
I make all kinds of music, for all kinds of reasons. And I do lots of music-related stuff: I teach songwriting, I co-host a radio show (about music), and I create music for television and film (and sometimes for commercials) but the main thing I do? I write songs for myself.
I write songs for me to sing and play. I use my songwriting as mode of self-expression, which I guess seems obvious, but lots of songwriters put on personas or voices, write for other people, or write to have hits.
I write to be heard, and to make sense of the world around me.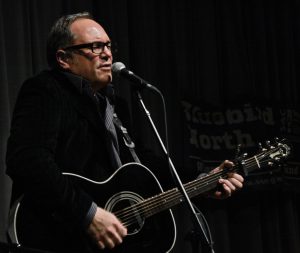 So far, I have three solo (post-Jitters) albums to my name. My latest, "Unpopular Pop," was released in the spring of 2017. I'm already working on my fourth (stripped-down acoustic trio), and my fifth (co-writes with an interesting list of artists) right now with more than half a dozen songs in the can, and half a dozen more ready to record.
You can check out my music on SoundCloud, or buy it on cdbaby.com and from iTunes. You can also order CD copies of any or all of my albums at my store.
You might also want to check out a few of my songs here: