As I write this, it's October 2016 and I am finishing up work on several albums of my own songs, and starting to plan production for English singer/songwriter Max Croft. We recorded most of her splendid debut album, "I'm Doing Fine," in Dublin with a fantastic studio band and finished it with some overdubs and mixdown at Twiddletown, my modest project studio in Toronto.  As of right now, it looks like the second Max Croft album will be recorded in early 2017 in Nashville, Tennessee.
I'm Doing Fine, the first Max Croft album, was the latest in a series of projects that I agreed to take on because it seemed so interesting. Max writes deceptively simple, heartfelt, direct songs that she had never properly recorded, and she wanted to spend some money doing it right, with great backing musicians, at a top-notch facility.We agreed to meet in Dublin, me traveling from Toronto, and Max coming from England. We did the sessions at Temple Lane's Sun Studio, with the great Julyo Photosonic on guitars, Nick Seymour, from Crowded House, on bass, and Graham Hopkins, from Glen Hansard's band, on drums and percussion). Recording in Dublin, a city I have come to dearly love, was great incentive, too.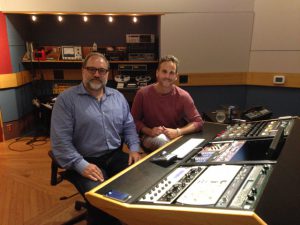 I don't take on production duties just to get paid; the prospect of spending weeks or months in a room with songs—or people—that don't interest me, is depressing. I have to be able to listen to the songs over and over, and I have to feel that the enjoyment they give me will only grow as the recordings develop. I also want to believe that the songs will be liked by lots of other people too. This was true of Stacey Kaniuk's Hot Air Balloon, which I produced in 2010 (she's a firecracker!) and also with the three Arlene Bishop records that I made throughout the 1990s, as well as my own solo recordings in the 2000s.
Working with Arlene was wonderful, albeit challenging at times. We were a couple at the time (17 years) and we not only recorded together but I also played in her live band. Anyone who works day after day with a spouse knows it can be hard on a marriage, though we generally did well at it. We made an EP of early songs, named Pinky, distributed by Universal Music, and two full indie albums, the first called Snarky Girlpop, and the second called Cut A Man's Heart Out (which I don't think referred to what the artist was thinking about her producer).
In 2005, I co-produced, with Ron Sexsmith, a Christmas song called "Whatever Happened to Christmas" for pop legend Andy Kim (perhaps best-known for writing "Sugar, Sugar" for the Archies in 1969, and his own massive hit, "Rock Me Gently").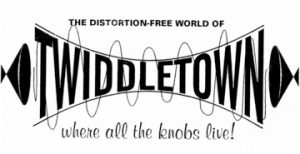 Triumph guitarist (and dear friend) Rik Emmett agreed to appear on the recording of the "Highway of Heroes", a lovely and moving song written and performed by another very close pal, Bob Reid. I produced that recording in 2009—for a week, it topped the Canadian singles chart—and in 2010, Bob asked me to produce its follow-up, "Soldier Welcome Home", which was released to great acclaim. Both songs continue to live on in the media (and the hearts of many Canadians) in the weeks leading up to Remembrance Day every November.
I've produced lots of smaller-but-interesting things along the way, too. Just one example: In 1994, Sony Music Canada put together a Neil Young tribute album called Borrowed Tunes, and I was asked to produce the recording of background vocals on the Colin Linden version of "Tonight's The Night" at Bearsville Studios in Woodstock, N.Y.  The Band's Rick Danko, and extraordinary songwriters Ron Sexsmith and Jules Shear provided the voices, I provided the direction, and Bearsville provided the amazing vibe. Countless heroes of mine recorded at that gorgeous studio over the previous decades: The Band, Todd Rundgren and Utopia, Jesse Winchester, 10cc, Jeff Buckley, New York Dolls, The Rolling Stones, XTC among them.
Audio Engineering
I've been an audio engineer on- and off- for about 35 years, with a background in pre-digital 2" tape recording (16- and 24-track, mixing to ¼" and ½" tape) but also fully fluent in ProTools and other current recording software.
In 1980, now-famed location recorder Doug McClement hired me to apprentice at his studio, Comfort Sound. From 1980 until 1986 I worked with Comfort both in the mobile recording truck and in the studio, having some great adventures along the way.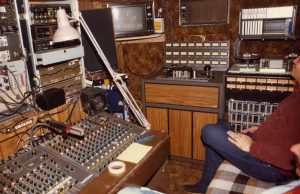 For example, Doug and I recorded the Heatwave festival at Mosport Park in August of 1980, a show that featured Elvis Costello, Talking Heads, Pretenders, Rockpile, B52s, The Kings and Teenage Head, though as an apprentice, I spent my time onstage, watching for problems, and not doing much engineering while Doug manned the mixer in the truck.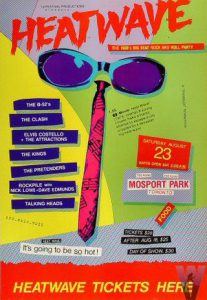 We also recorded countless church choirs, bagpipe ensembles, marching bands and telethons around Southern Ontario. At this time, there were three contemporary rock stations in Toronto, and each of them recorded concerts of touring acts every week or so at venues like the El Mocambo, Larry's Hideaway, the Horseshoe, and Hamilton Place. There was also a burgeoning desire to see music (and comedy) "live" on TV. As a result, Comfort Sound recorded Burton Cummings, Split Enz, Aztec Camera, Martin Short, the SCTV cast, Psychedelic Furs, Spoons, Little Steven (Van Zandt) and the Disciples of Soul, Goddo, Jim Carrey, Payola$, YouthYouthYouth, Headpins, Donnie Iris, Anvil and so many others it makes my head spin trying to remember them all.
I recorded R.E.M.'s first Toronto appearance, at Larry's Hideaway—the grungiest of them all—on July 9, 1983 (and that recording was released in 2008 as a bonus disc for the 25th anniversary Murmur package). Later that same month (July 20, 1983), I was assistant engineer (to Doug) on a TV recording of Stevie Ray Vaughan's first Toronto solo show (released in 1991 as the "Live at the El Mocambo" DVD ).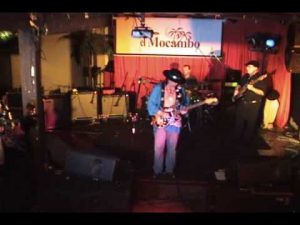 Around the same time, Doug and I recorded a string of Toronto club appearances by Bryan Adams; Bryan and I also worked together in the studio, recording vocals for a demo song he and Jim Vallance wrote for a film soundtrack.
While back at the studio, I engineered recordings for many legendary roots reggae artists, including the late Jackie Mittoo, Eek-A-Mouse, Leroy Sibbles, and others.  Toronto's prominent pop and New Wave bands recorded at Comfort (B.B. Gabor and The Hi-Fi's—later to become Blue Rodeo—for just two examples).
I also started recording demos with my own band, The Jitters, auditioning band members as we recorded. With popster Bob Segarini producing, and once the actual band was assembled, The Jitters made our first "real" demo together in the fall of 1981 at Comfort Sound on Dufferin Street. Also at Comfort The Jitters worked with superproducer Bob Ezrin (Alice Cooper, Pink Floyd, Rod Stewart, etc.).
My time engineering at Comfort Sound concluded in 1986, a couple of years after Doug moved the studio downtown to Soho Street (Queen and Spadina). The Jitters situation was quickly gelling into a record deal (with Capitol-EMI Records of Canada) and I was able to make a living simply playing guitar and singing. It was a magical time!
Selected Producer Discography: Blair Packham
Max Croft     I'm Doing Fine (album, independent, U.K.) 2015
Stacey Kaniuk     Hot Air Balloon (album, independent, Canada) 2012
Bob Reid     Highway of Heroes (single, Universal Music Canada) 2010
Soldier Welcome Home (single, independent, Canada) 2011
Andy Kim     Whatever Happened To Christmas (single, independent/Warner Music Canada; co-produced w. Ron Sexsmith) 2006
Blair Packham     Everything That's Good (album, independent/EMI Music Canada) 2000
Could've Been King (album, independent, Canada) 2004
Arlene Bishop     Pinky (E.P., independent, Canada) 1996
Snarky Girlpop (album, independent/MCA Records Canada) 2000
Cut A Man's Heart Out (album, independent, Canada) 2002
Colin Linden     Tonight's The Night (single, BG vocal production only, Sony Music Canada) 1994
Tom Barlow     Innocence Is Bliss (E.P., co-produced w. Colin Linden, independent, Canada) 1992
Lizanne Evely     Humanity Lost (album, independent, Canada) 1993
Youth Youth Youth     SIN (album, independent, Canada) 1983
Androids     Roller Derby Queen/Over & Over (single, independent, Canada) 1980