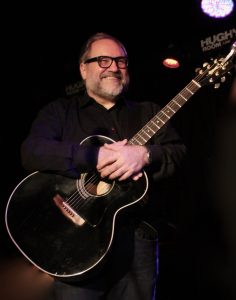 After decades of playing music in electric bands Blair Packham has decided to "go acoustic."
Why? Well, first and foremost, Blair is a storyteller.
The Toronto-based performer's songs themselves are stories of joy, triumph, heartbreak and loss; in between songs, Blair reliably adds something funny or quirky to the narrative. It comes naturally, it seems.
"I started playing solo occasionally in the late 1990s, and at first I just wasn't very good. I think I was using the acoustic guitar to try to simulate the sound of a loud band behind me. But once I got comfortable with the extraordinary dynamic range, I realized that the acoustic guitar can still be powerful even if it's quiet—maybe even especially because it's quiet."
"I also figured out that playing an acoustic guitar—unlike with a loud band—the words can usually be heard. I could tell stories with my songs."
It is, in essence, a return to Blair's roots. "When I was a kid, I was a big fan of Sonny Terry and Brownie McGhee. I loved their folk blues. I even met them once, in the dressing room of the Riverboat coffeehouse in Yorkville. Their classic 'In London' album was on my turntable as much as any rock music was. The next year, at 13, I went to see John Prine in concert at Massey Hall. Almost 3,000 people were mesmerized by this guy and his acoustic guitar; even at that age, I thought 'I want to do that!'"
Blair was a teenage volunteer at the Mariposa Folk Festival (from 1973-1980) where he heard all kinds of roots music, and met all kinds of folk heroes. "Bukka White, Mike and Peggy Seeger, Elizabeth Cotten, Ramblin' Jack Elliott, John Hammond Jr., David Bromberg, Reverend Dan Smith, Maria Muldaur, Sweet Honey in the Rock, Robert Junior Lockwood…these are just some of the legends that Mariposa hosted during those years." Blair was befriended by Blind John Davis, the Chicago-based piano player who kept in touch for years after the two met, and when John would come to Toronto to do a show, Blair would be in attendance, watching the blues-oriented pianist's fingers work their magic.
The "folk" music he heard struck teenage Blair as particularly honest and glamour-free (which is its own kind of glamour), and he loved it. "Steve Goodman was another artist I heard at Mariposa, and his performing style—funny, vulnerable, cocky—influences me to this day."
In 2019, Blair decided to start recording his latter-day acoustic storytelling songs, and now—one pandemic and some fitful starts and stops later—he has finally finished. The recording, which Blair is "slow-releasing" over the spring and summer of 2023, is called The Impossible Dream. ("Slow releasing" in this case means Blair will issue, to Spotify, Bandcamp, SoundCloud and the other usual sites, a song at a time, probably every three weeks or so, starting in March. Eventually, he'll press a limited run of The Impossible Dream which includes all of the songs.
"The 'album' name? It's because I'm old," he says with a laugh. "I mean, dreams of music stardom usually aren't encouraged for anybody over 30, but I can't do anything else. I'm compulsive about writing songs. And I want people to hear them. Music is my everything. So I figured I'd acknowledge that my dream of people hearing my songs on a wider scale may well be impossible. But it's a noble dream nonetheless: the pursuit of art, of truth, of getting your story out there, against all odds."
(The "Impossible Dream" is a nod to Miguel de Cervantes' Don Quixote, the novel published in 1605 that depicts an old man who goes on a quest to battle imaginary dragons while living a life of romantic chivalry).
In the 1980s, Blair was lead vocalist/guitarist for The Jitters, who enjoyed three Top Twenty singles in Canada and toured relentlessly. Blair has since released three albums as a solo artist, placing songs in countless TV shows and films like Dawson's Creek, Hollywood North, Stay, and many more. Other credits in Blair's long career composing for TV and film include TSN's NHL Tonight!, Global Television's The Jane Show, Oxygen's Skin Deep, as well as animated shows like Esmé and Roy (Sesame Street), Beyblade, Rescue Heroes, Trucktown, Spliced!, and The Adventures of Chuck and Friends.
"I love writing music for TV and film," says Blair, adding "there's something invigorating about writing to a deadline," but he acknowledges that writing songs is his true passion.
"That, and performing live," he says. "Playing for an audience of listeners is fantastic! Telling them stories, my stories, is so gratifying. I hope I never become too old to do it."
 —Paul Worthington, 2023
Media Contact: Eric Alper/647-971-3742  or  eric@thatericalper.com