I Make Music.
I make all kinds of music. And I do music-related stuff: I teach songwriting, and I create music for television and film. But the main thing I do, the thing I love the best? I write songs for myself.
I write songs for me, to sing and play. I use my songwriting for self-expression, which I guess seems obvious, but so many songwriters become a character, with personas or voices not like their own, write for other people, or write to have hits. I write to be heard, and to make sense of the world around me.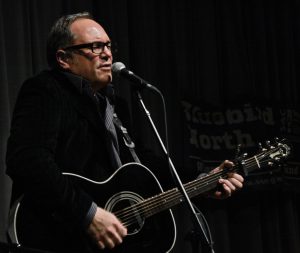 Current Music.
So far, I have four solo (post-Jitters) albums to my name. My latest, "The Impossible Dream," is being slow-released in the spring of 2023. And I'm already working on my fifth (co-writes with an interesting list of other artists) right now.
Influences.
I get asked about my influences, and the list is so long, I usually stick to the obvious: The Beatles, Elvis Costello…you know: clever fellows with a knack for catchy melodies. But I also listened avidly to Sonny Terry & Brownie McGhee, John Prine, Steve Goodman, and other folkies, at the same time I was listening to early-70s pre-disco funk (Ohio Players, Kool & the Gang, Sly & the Family Stone, Gil Scott-Heron). And an influence whose depth surprises even me at times: B.B. King. I saw him in concert maybe ten times over the years, and he never failed to move me with his gracious musicality. And later, I loved "new wave" artists like Squeeze, Pretenders, The Records, the English Beat, Nick Lowe, and Graham Parker. As a songwriter, I continue to be influenced by Craig Northey and his band Odds, who I have great admiration for; likewise Ron Sexsmith (who shares my mild obsession with the songwriting of The Kinks' Ray Davies). But my biggest songwriting influence is probably Jules Shear, whose skill at writing a lyric that will pierce your heart in a fresh, new way is unparalleled.
Listen:
You can check out my music on SoundCloud, or buy it on cdbaby.com and from iTunes. You can also order CD copies of any or all of my albums from me directly: blair @ blairpackham.com
You might also want to check out a few of my songs here: