From 1981 to 1991, I was the singer and main songwriter in The Jitters. The band really started when my friend Danny Levy and I first talked about writing songs together.
Dan and I attended Jarvis Collegiate in the 1970s, a downtown Toronto high school, where he played in a band called The Amazing Tools. They were, well, amazing: quirky songs, super-tight playing, rich, complicated arrangements, weird and arty lyrics, and eons beyond what most kids were doing. Eventually, I was a Tool for a summer—as lead singer, replacing the departed Roland Kirouac, Jr., who had also been the band's main lyricist. I was thrilled at even being asked, though it never felt quite right—the songs just weren't me.
They were melodically angular, if you know what I mean, never smooth, and the lyrics were clever-clever and arty (which I admired, but didn't really feel). I attended the University of Toronto that fall, had an unspectacular year, then dropped out at year's end to go on the road in Northern Ontario. After a half-winter together in a cover band, called Black Slacks (named after the Sparkletones rockabilly song from the 1950s) Danny and I decided there was no point playing other people's songs to uninterested barrooms–why not play our songs to uninterested barrooms?! We began learning how to write songs. And we wrote a lot of them. We became original-song snobs, too: playing cover music was a waste of our time. Or so we thought then.
In the spring of 1980, I got a job in Toronto as an apprentice recording engineer with Toronto's Comfort Sound, a well-respected eight-track facility. Comfort was owned by Doug McClement (a great teacher and boss who remains a friend into the 21st century) who also assembled a first-class mobile recording studio in a yellow Dodge cube van. We were busy recording television simulcasts and radio broadcasts of well-known acts at Toronto venues. Between the studio, where I engineered demos and independent releases, and the truck, where I worked with more established acts—like Bryan Adams, R.E.M., Stevie Ray Vaughan, Elvis Costello, Psychedelic Furs, Aztec Camera, Little Steven & the Disciples of Soul—I got a great education in recording, and in "stage craft."
The Jitters emerge
In the summer of 1981, Danny and I had accumulated a bunch of songs ("Take Me As I Am," "What About Me," "Sensible Shoes" and "Nobody's Fool" among them), and decided that it was time to record 'em and assemble a band, in that order. We met Matthew Greenberg playing bass in an R&B cover band. He was a really good player, he could sing, and being five years older than Danny and me, he'd had enough of the road, too. Matt was also funny as hell, with a sense of humour that (hilariously) verged on mean, at times. Danny and I brought about ten songs each to the table, and we started rehearsing. The Jitters' first gig (with ex-Amazing Tool David Taylor temporarily playing drums, and future-Jane Siberry-singer-Lee Whalen sharing lead and backing vocals) was in the basement at Toronto's Hotel Isabella, on October 6, 1981. After that gig, Lee left the Jitters (she was pushed, truthfully; the band was a bit of a boys club, sad to say) and Glenn Martin joined on drums.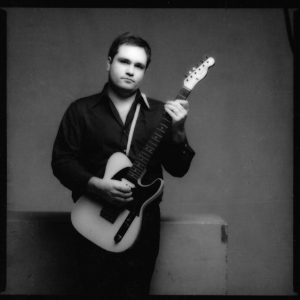 First Demos: Bob Segarini, Bob Ezrin…
Since I worked at a recording studio, the Jitters got pretty good at making demos, though in that DON'T-do-it-yourself era we never made an indie release; why risk having a thousand vinyl copies getting moldy in our basements? Doug McClement generously allowed the Jitters to record at the by-then-sixteen-track Comfort Sound whenever there was downtime; frankly, we took advantage of Doug's good nature—we probably recorded thirty-five songs over the five or six years I worked at Comfort.
(Even now, I'm surprised at how quickly the allure of free recording wore off for the rest of the band. Typically, I'd finish up an eight- or ten-hour day working at Comfort, ready to record the Jitters into the night, and the rest of the guys would call, one by one, and opt out. We weren't exactly the hardest-working band in show-business.)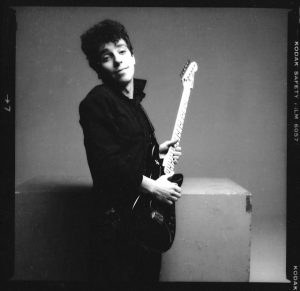 The first set of Jitters demos was produced by Bob Segarini, a pop artist well worth looking up–he writes a mean hook, with smart, often funny lyrics. Sort-of-legendary-Bob worked with us for an absurdly low fee: he wanted a fresh bottle of Jack Daniel's every time he set foot in the studio. Being young and ambitious, we agreed and made a good first start in the winter of 1982, recording "Take Me As I Am", a song Danny wrote and sang called "Back Where You Belong", and one of mine called "What About Me."
(Though she doesn't remember, my now-dear friend Lisa Dalbello sang background vocals on "Take Me As I Am" before going on to being a star in her own right.)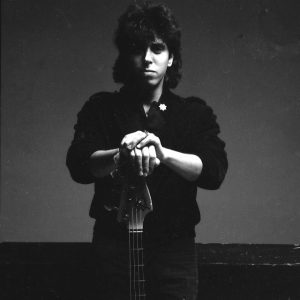 The next few rounds of demos were produced by Bob Ezrin, producer of Pink Floyd's The Wall, as well as many Alice Cooper, Lou Reed, Rod Stewart and Kiss albums. By chance, I saw Bob as a guest on a local TV show; when the TV host introduced Bob as being a "very busy producer," Bob interrupted, "Well, no, I'm not. In fact, I'm looking for something to do." Well, I didn't have to be told twice. Our erstwhile manager, pal Jeff Rayman, found a phone number for Bob, and I called. I somehow convinced Bob's assistant Ringo Hrycyna to give our self-produced demos a listen, and then I mailed off the cassette and press kit, not expecting to hear back for weeks, if ever. To my surprise, Bob called back within days. He said he hadn't listened to the demo, and probably wouldn't, and if he did, he probably wouldn't like it. (Sheesh. Well, I was just thrilled to be talking to Bob Ezrin on the phone, and I admired his honesty). Looking at the press picture I'd sent, Ezrin just wanted to know one thing: "Which one are you?"
I hesitated and said "Um, I'm the big guy," sure Bob wouldn't want to work with us because I just didn't look very "rock 'n' roll." To my surprise, Bob exclaimed, "Oh! That's great! See, if you were one of the others, if you were the bass player, for instance, we'd have to fire 'the big guy' but if you're the singer and the songwriter, we can build something interesting from that!" He promised to listen to the demo. So again, I waited.
And then, about three weeks later, Bob Ezrin called back. He wanted to get together. He complimented me on the sound of our recordings, told me that he felt confident we could get a record deal happening with the right demo and offered to introduce us to a manager he liked named Ted Thrasher.
Ted, an ex-pat Canadian from London, England, who had for years tour-managed Emerson, Lake and Palmer, was now managing Fastway ('Fast' Eddie Clarke, ex- of Motorhead) and CBS Canada act Harlequin. Ted was now looking for another act to take on. Ted Thrasher was quite a character (think: Ian Faith of Spinal Tap, a beefy six-foot-five, complete with cricket bat) and we got along very well with him, and signed our management agreement quite quickly.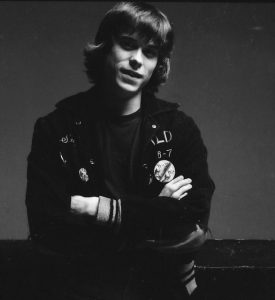 Working with Bob Ezrin was an eye-opener: he had a wide vision that went well beyond the Jitters just being a little pop band, and he made us more musically ambitious. We learned about using key changes and more interesting chord voicings, and using instrumental sections to allow the songs to breathe. We recorded demo after demo, and did showcase after showcase. I even wrote and co-wrote songs with him at his house. Unfortunately, even with Ezrin's name attached, the Jitters couldn't get a record deal. (In fact, according to one legendary and now-gone Toronto label exec, Ezrin's name was a liability for a band like us because Ezrin's involvement, he said, would make the budget uncontrollable. Personally, I think that the label guy was afraid of Bob's big imagination.)
The Jitters continued to write and record on our own, however. We were building up a small local following,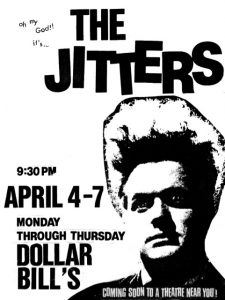 playing now-long-gone Toronto pop venues such as The Isabella, Larry's Hideaway, the Jarvis House, the Upper Lip, Branko's, Rock 'n' Roll Heaven, the even the legendary hard-rock Gasworks.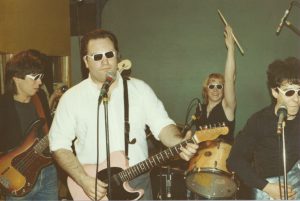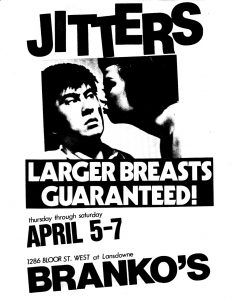 Video Stars: 'Take Me As I Am'
In the summer of 1984, The Jitters were approached by Scott Eldridge, a local documentary film maker, who'd decided that he would try and cash in on what he correctly saw as a rising trend: the making of music videos. Scott proposed shooting a video in an afternoon using 16mm film, as the band rode up and down the street in a borrowed white Cadillac convertible.
We, of course, had different—and more ambitious—ideas. Applying for funding from the newly-established VideoFACT, we got a grant of $2,500 to shoot a music video that, in our script, made fun of the increasingly image-conscious, post-MTV music business. We went about sixty bucks over budget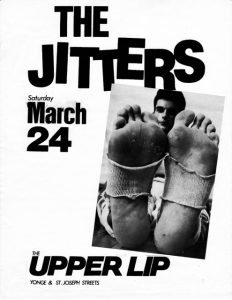 (parking, and lunch for the crew) but ultimately made an independent video that more-or-less coincided with the launch of MuchMusic, Canada's version of MTV. The clip, for yet another recording of the song "Take Me As I Am", proved popular,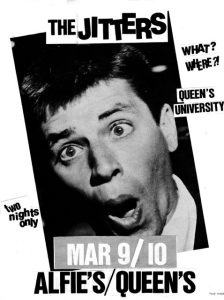 I guess because of its humour and low-budget charm. It featured me in a clothing store trying on various rock icon outfits (Michael Jackson, ZZ Top…me as Boy George is particularly worth seeing) while the band waits, rejects, grimaces and finally approves the outfit that is most 'me'. The band performance shots were mostly done on the roof of 26 Soho Street (the converted warehouse building where Comfort Sound was by then located) at sunrise on a September Sunday morning, much to the understandable annoyance of the neighbours, who called the cops. (It was our "Let It Be" moment).
This video was pretty simple: no slow-motion breaking glass, no smoke machines, no rain-slicked streets, no leather jackets or other things that became such 80s clichés–it was a little different from the others Much was playing at the time. It was heavily requested, and opened up the door to gigs outside of Toronto. We even started getting recognized by strangers on the street.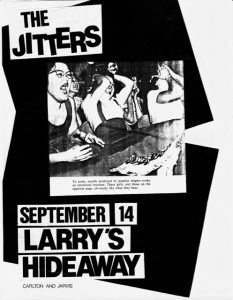 Idiotically, we never pressed up copies of "Take Me As I Am." It just seemed so DIY in that era of corporate rock, I guess, and I was scared of wasting money (my money, in fact; the others jokingly called me "Mr. Moneybags" because I was usually the only Jitter with a job).
More Producers, David Quinton, New Management…
Well, it turned out Capitol Records of Canada took notice of the video, and offered to fund the recording of a single (two songs: "Take Me As I Am"—again!—and "Go Ahead 'n' Love Me") at the Metalworks, in Mississauga, Ontario. The producer in this case was Stefan Gelfas, who'd produced mega-hit single-maker John Waite ("Missing You"), Christian metal band Stryper, and our management-mates Harlequin. With a producer's track record like that, we—the Elvis Costello-ish pop band—were scared shitless! It didn't seem like a good fit, and Stefan's music business war stories were crazy (huge exaggerations and flights of fancy that were endlessly entertaining). Nonetheless, Stefan did a credible job, re-working a song that Ezrin had already worked over, and also re-recording 'Take Me As I Am', the song that had been a video hit. Alas, Capitol decided, once the smoke had cleared, to take a pass and not release the single. (This was after spending 15,000 bucks. I could make two full albums for that budget now!)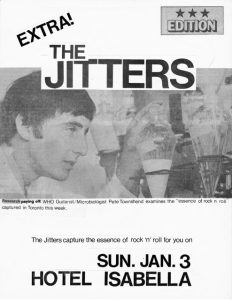 In recording limbo again, we worked with English producer Alfie Agius, the bass player from the Fixx ("One Thing Leads To Another"), who did a really good job of recording us in 1985–again, at the Metalworks–but again–no deal. (Alfie ended up in LA playing with the Rembrandts, of "Friends" theme-song fame. I last saw him in late 2005 and he was in fine form.)
At this point, our excellent drummer Glenn Martin–who had already left the band a couple of times before, first to play with singer/songwriter Michael Zee and then with local rockabilly sensation Mean Steve Piano—decided he'd had enough, again. With an offer from brilliant guitarist David Wilcox, then the top touring draw in Ontario, Glenn exited the Jitters. Replacing him was ex-Dead Boy David Quinton. An absolute wildman on drums, David regularly trashed his kit at the end of shows, and often ended songs standing on his drums, all in the name of rock 'n' roll! He was a great addition to the lineup, and lots of fun to hang out with. David and Glenn swapped places at least twice more during the mid-1980s.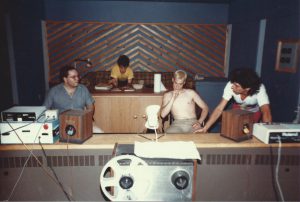 We also enjoyed playing with Vic D'Arsie during this period. Vic is a natural, wonderful musician who can play many instruments, but with us, he played the Hammond organ, and it added a lot to our guitar-based sound. (Vic also eventually appeared on our first album, playing Hammond B3 on every song).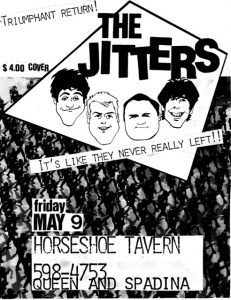 A change in band management occurred around this time; we ended our two-year relationship with Ted Thrasher (as of 2004, the last time I checked, Ted was tour-managing the Moscow Circus) and after a time of self-management, we began working with a local guy named Evan Adelman. Initially, because we dreamed of having a connected, powerful, world-class manager, we were suspicious of Evan's street-level approach, but he quickly made things really happen. Capitalizing on our video exposure, Evan started to really heat things up on the Toronto club scene. He helped us produce a recording ourselves, and he entered us in a local radio talent contest (the 1986 'Q107 Homegrown').
With much excitement and fanfare, the Jitters took third place…er, no, wait! Not quite. We shared third place with a band called…I think they were called Simon Chase. I honestly don't remember! Anyway, the other bands—the 'winners'—are long gone, and probably to better-paying careers, too! But we benefited by getting lots of airplay from Q107—and the station even hired me as a weekend fill-in disc jockey. (I used to enjoy slipping the Jitters song into my playlist, then describing the lead singer as "a close personal friend of mine," and "a truly great guy.")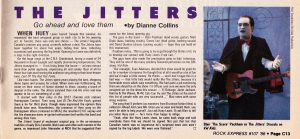 The summer of 1986 ended with a big moment for the Jitters: we played for an audience of 24,000 at the Canadian National Exhibition opening a show for Huey Lewis and the News. Lewis himself had asked that, at every stop on the tour, the opening act would be 'the best local unsigned band'. With no false modesty, I believe that the Jitters were the obvious choice, but it was quite a change from playing to a hundred people at the El Mocambo.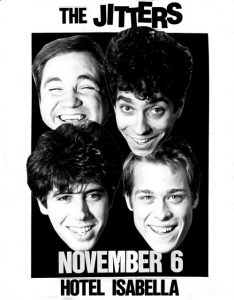 Still, peaks like this were few and far-between, and the slog was getting tough. As 1986 ended, after five years of playing together, despite the local radio success, the video exposure, and the fact that we were now a popular club draw, we were getting the mutual feeling that we'd taken the Jitters as far as we could.
There wasn't much songwriting going on, we never rehearsed, and one of the members of the band had developed "personal problems" that threatened to break us up. The free recording time at Comfort Sound had long since lost its charm, even for me: I got sick of trying to convince the other guys that we should do yet another demo. Being a bandleader is truly like trying to corral that clichéd herd of cats. Just trying to get everyone in the same room was a challenge, especially since no one was feeling particularly creative or excited.
Haircut 100: Paul Gross Gets a Trim
It was at at this low moment in 1986 I got a phone call from Paul Gross, owner of Phase One Recording Studios in Scarborough, a suburb of Toronto.
Paul was getting his hair cut with Q107 on in the background, and the station was playing "Last of the Red Hot Fools" from the Homegrown 1986 album. He apparently made some favourable comment to the stylist, a nice woman named Nancy Rochon, about the song, and she said, "These guys? I know these guys. They're called the Jitters." Paul asked if she had a number for us and she gave him mine.
When we spoke on the phone, Paul said he'd like to hear more songs and that maybe he'd like to record us, for free, do some demos, maybe make an album. With no commitment, and nothing to lose on our part, I rallied the troops.
Without even meaning to, we began recording our debut album, the imaginatively titled 'The Jitters,' in the winter/spring of 1987 at Phase One, and in the middle of the process, armed with rough mixes, Paul and Evan actually got us a deal with Capitol Records – EMI of Canada. In press releases, it was touted as "a multi-million dollar, seven-year deal" but it was actually more like a "seven-hundred-and-fifty-thousand dollar, four-year deal at the label's sole option," as it turned out. Still pretty exciting, by my reckoning (by the way, we wanted to name the album with something that pointed to our humour, our quirkiness. I remember one candidate, 'Young, Gifted, and Nervous', a play on the great Aretha Franklin album title. It was at this point that Capitol first famously told us "humour and music don't mix.")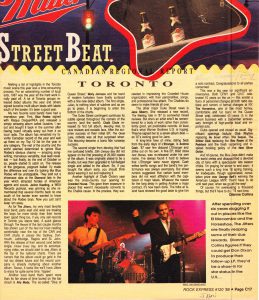 Paul did a great job, recording us through a vintage Neve console onto two 24-track 2" Studer machines sync'd together for 48-tracks, total. Engineers on the album included Randy Staub, now known for his work with Metallica and Nickleback, as well as the late Bill Kennedy, Earl Torno, and Joe Primeau. (In the studio next door, Platinum Blonde, Canada's ultimate hair band of the 80s, were recording their third album with the late Bernard Edwards of Chic producing). It was all very exciting.
Hit records, touring and glamour…
Stickman David Quinton (whose real last name is Steinberg) was by then attending law school in London, Ontario, and the Jitters felt we had to find a new drummer. Still, David continued to make the two-and-a-half-hour drive to play gigs with us on weekends, though things were definitely tense. He blamed me for not standing up to producer Paul Gross who believed, given David's relative unavailability, using a session drummer made more sense, and that a session drummer would give more reliable performances. I see—now—that I possibly could have stood up to the 'powers that be', but I guess after our years of scuffling, I just wanted to make a real record more than I wanted to keep the band intact. (David and I have long since put this to rest; I love him, and he's one of my very best friends. But for a long time, I know he felt betrayed. Just FYI, he's my lawyer now, so if anyone reading this story has any complaints, about this or anything else, contact him).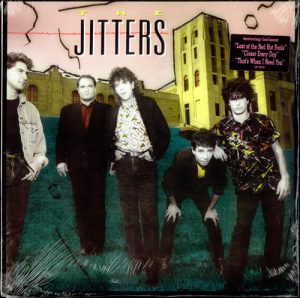 In the rush to release the album, Capitol Records said they wanted to market us as a 'classic five-piece rock band'. Deane Cameron, then head of A&R, suggested we find a keyboard player for the upcoming photo shoot (by Deborah Samuels, who shot—among many other iconic images—the cover for Moving Pictures by Rush.) Well, hmmmmm…I always thought the most 'classic' rock band was the Beatles, and they were a four-piece, but…Anyway, we didn't take Capitol's direction seriously, I confess; when we went to the photo shoot, we dragged along Matt's younger brother, Paul Greenberg. What manager Evan Adelman didn't tell us was that the shoot was for the debut album's cover. So…um, on the right side of 'The Jitters' album cover is David Steinberg, who didn't play on the album (and, because of the quirks of optics, appears to have a disproportionately large left forearm). On the left side of 'The Jitters' album cover is Paul Greenberg, who doesn't play a musical instrument at all! I'm not sure if Capitol ever knew this, but we thought it was a riot. Paul and David 'played' in the video for 'Last of the Red Hot Fools', too, later that summer. (Keep an eye on Paul if you watch that clip…)
(The very-funny Paul ended up in a comedy troupe called The Vacant Lot, with their own CBC series, then he appeared in "As Good As It gets", the Jack Nicholson/Helen Hunt movie, and more recently, I saw him in an episode of HBO's "Curb Your Enthusiasm." Lately, he has been writing for Neil Patrick Harris, has won an Emmy Award or two, and appeared—uncredited but very visibly—on the Oscar broadcast of 2014)
With AMS gated reverbs and delays, triggered tamborines, chorused guitars and a session drummer and keyboard players playing synth horn shots (Randy Cooke, and Rob Preuss of The Spoons with Lou Pomanti, respectively), the Jitters debut sounds like a thing of its time, which—for pop music—is appropriate, right? I guess so: the Q107 'Homegrown' version of 'Last of the Red Hot Fools' has more grit and charm, for my money…But it wasn't my money; by now it was Capitol's, and they spent about a hundred grand to make our recording. Danny's friend, the great Kurt Shefter (a key member of Alannah Myles' recording/touring team) appeared on two songs ("Hard As Nails" and "Last of the Red Hot Fools"), playing fluid and soulful guitar solos (though he doesn't play all the lead guitar on the album as he claims on his website). The lovely and talented Amabile sisters, Tam & Tash (formerly of The Pursuit of Happiness) sang on "Red Hot Fools", and there were various other guests, including Vic D'Arsie on Hammond B3 organ, and drummer Paul DeLong on "Mad About You."
Once the album was done, we finally got ourselves a keyboard player: Danny's pal from Jarvis Collegiate, Peter Nunn, joined us at this time, on piano and organ. Pete had been playing for about five years with Gowan (the very popular Canadian artist who is now lead vocalist with Styx), and Pete was—and remains—-a good-natured, intelligent, engaged, curious guy who is also a terrific player.
"The road" was generally lots of fun: being on TV seems to make anybody attractive, and we did our best to keep up with the demand. It seemed like Matt had friends in every town across Canada, and Peter and Glenn in particular made "friends" fast, too. Danny used to like to hit bookstores where he'd buy used first editions to add to his growing collection. Danny and I did the most interviews: there was always press to do, and radio, too. We were more visible than ever, and it was very cool. Mostly.
We made two videos for the album ("Last of the Red Hot Fools" and "Closer Every Day") which MuchMusic played like crazy, and we toured like mad, all across Canada. "Red Hot Fools" peaked at Number 10 nationally, though it reached Number 1 in a few markets. Trouble was, because the earlier version of "Last of the Red Hot Fools" had been identified with Toronto radio station Q107, rival CHUM-FM didn't add the song to their playlists at their many stations across the country until after the song peaked in Toronto. This meant that though we had a hit record in various places in Canada, it could never gain enough momentum to top the national charts. But it also meant that the song was being played somewhere somehow across Canada for months and months. The record industry calls this a "slow burn;" it's good for a band's visibility, and actually good for radio airplay publishing royalties. But it's not necessarily good for actual album sales…
(By the way, a B-side of one of the singles from our debut album was "Take Me As I Am", the song we'd made an independent video for—but never released—and one of the songs for the ill-fated Capitol Records single project—that was never released. Since the song actually pre-dated the Jitters, Danny and I had recorded it with other players in 1980, then again with the Jitters and Bob Segarini, then again with Bob Ezrin, and again with Stephan Gelfas, and again, and again…Finally, with Paul Gross in 1987, for the thirteenth time, we recorded it…and as a B-side to "Closer Every Day," our second single, it was finally released! I still think it's a good song…)
The five of us, with our road manager, Bruce Duncan, leading the way, played every stop from Toronto to Vancouver and from St. John's, Newfoundland back to Toronto. We made a lot of friends along the way. I jammed with Iron Maiden in Winnipeg, met David Bowie in Vancouver, hung out with Neil Finn and Crowded House in Toronto. Not only did we "share" stages with various Canadian bands like Blue Rodeo, the Northern Pikes, Andrew Cash, Frozen Ghost, The Pursuit of Happiness, and Colin Linden, we also opened for the Byrds, the Beach Boys (twice!) and our heroes, the Kinks. We were nominated for a Juno Award for Most Promising Group in 1988, and were only a little crushed when the prize went to Barney Bentall & the Legendary Hearts.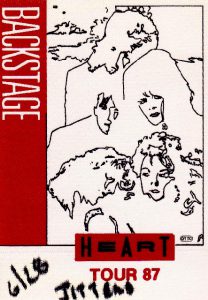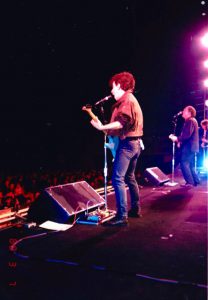 The spring of 1988 was spent touring Scotland and England, opening for Heart. We wrapped up the tour with three nights at Wembley Arena, and got a standing ovation on night three. Our British label was Parlophone, the Beatles label (!) and we had our picture taken—like countless other geeky North American bands—just like the Fab Four, gazing down the EMI stairwell. I shared a few drinks with Jonathan Richman in a London hotel lounge, and joked around with The Proclaimers in an elevator. We met some nice girls, made some good friends, and had a blast. We played on Suzi Quatro's chat show in Birmingham and "Last of the Red Hot Fools" made it into the BBC Top 100. Back in Canada, in a bar on a night off, Matt and I watched the Edmonton Oilers take the Stanley Cup in 1988 to the sounds of "Closer Every Day", the team's theme song that year.
It was all amazing. We made an impact in Canada, made a dent in the UK, and were ready to make it happen worldwide. The label was behind us, management was excited, radio knew us, and the band was working well together. We just needed to make a new album to capitalize on our momentum…And for a variety of reasons, some of them valid, it took three years.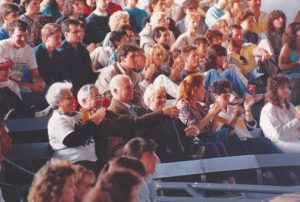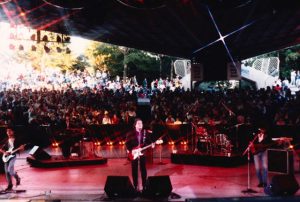 Writing for Album Number Two: Friction
I found writing songs while on the road next to impossible, and like I said, we were never the hardest-working band around anyway, except on stage. It became obvious, after a year-and-a-half of touring, that we were going to have to take some time off to focus on songwriting. Since I had started the Jitters with Danny, bringing in a bunch of songs and writing new ones with him, I guess I assumed the band was kind of "mine," and more importantly, I honestly believed the others weren't ambitious in terms of songwriting.
I was wrong: Matthew, Peter and Glenn eventually said they also wanted to write songs for our new album. I resisted. I think my reaction was understandable. In the seven years we'd been together, I couldn't remember anybody but Danny ever offering up any tunes for us to play. Danny pretty regularly brought songs to rehearsal, or offered to finish mine, and it was pretty smooth. There was friction with the other guys over this issue, but ultimately, we were a democracy, and if I didn't want to derail the whole damn thing, I had to accommodate.
So we started trying to write, together and separately. Renting a rehearsal space in Toronto's west end (a spot upstairs somewhere on lower Ossington Avenue), we began demoing the material we wrote. Frustratingly, even though I tried to be encouraging and even generous, some of the other guys still felt put out (and maybe/probably still do). Tension in the rehearsal room wasn't uncommon, and made for tough times. Lots of grunting, pointed remarks, forced laughter. Still, slogging it out, winter to summer, we finished demo after demo.
Capitol Records (specifically A&R Director Tim Trombley) professed to love some of the new songs, and plainly just didn't like some of the others. Ultimately, we amassed about forty new tunes, some of which I can hum you to this day, with smart words, moving melodies, and interesting arrangements. Capitol felt we still weren't quite 'there' yet, and urged us to keep writing.
By this point, though, time was really flying by: two years had passed since our first album's release and success. We also had to find a producer, which isn't as easy as it sounds, even for a major-label act. Ideally, you want a 'name' producer with a track record of working with artists you admire, who also doesn't cost too much–since his or her fee will eventually be paid for from the band's record sales. Then, you have to find a schedule that will work for everybody, and since album recording is often a six-week (or longer) process, in-demand people can often be booked up a year or two in advance. Various names were tossed around, including Mitchell Froom (Crowded House), Todd Rundgren, Ritchie Zito (Cheap Trick) and John Hiatt (I asked Hiatt personally backstage at a show at Toronto's Diamond Club; he graciously declined, saying the responsibility of shepherding a major-label budget was too scary).
One day Evan Adelman asked, "How about Jules Shear?" This was an amazing question! Jules had written some big 80s hits, including "If She Knew What She Wants" by the Bangles, and "All Through the Night" by Cyndi Lauper, but more than that, I had been a huge fan since he'd made a fantastic debut album with Jules and the Polar Bears in 1978. (I still know every word of that record). And in the mid-80s, Jules had released "Big Boss Sounds," a truly great, quirky pop/rock album by his band, the Reckless Sleepers, which was a constant favourite of mine. I just didn't know Jules produced albums.
Apparently, he didn't. Not yet, anyway. What Jules wanted to do was co-write an album with us and produce it as well. This idea took some getting used to, and Danny and I in particular wrestled with it.
I remember saying to Danny that we could stick to our guns and insist on making an album of the songs we'd already written—some of them terrific—and in doing so, keep our full songwriting royalties—not an inconsiderable issue, as Jules wanted a third, and the rest of the five us would have to split the remaining two thirds…
…but if we said "No thanks", we'd never know what might have happened with Jules.
Alternately, we could say "yes" and have the experience. Saying yes meant meeting with Jules, and then writing enough songs for the album, and then demoing those tunes in pre-production. It would be a long process…but it seemed too artistically interesting to turn down. We figured we could always write more songs, make another album…
We all met Jules for the first time for dinner at a steakhouse in downtown Toronto (the location must have been chosen by our manager, because Jules was—and is—a vegetarian). It was a fun and funny meeting, and afterwards, Jules suggested he and I go for a walk. We went over to Yonge Street and visited Sam the Record Man, then A&A Records. In the window of Sam's was "Everything's Different Now," the (fantastic) album by 'Til Tuesday, which contains the Aimee Mann song "J for Jules," written about the guy I was walking with. In his Eeyore-like way, Jules muttered, "You heard that yet?" I remember feeling embarrassed; Jules and Aimee had been the pop-music "it" couple for a year or so, and then something happened. I didn't know if she'd dumped him or vice-versa. I just kinda shrugged, embarrassed, and he laughed. (It's a really good song, by the way.)
Danny, Jules and I started writing in early April 1989 at my old apartment at 545 Sherbourne Street in Toronto (we wrote "If I Could Be There," which ended up on the album, and "The One That Got Away," which didn't) and then convened a couple of weeks later at the Shear place in Northampton, Massachusetts, the three of us writing every day, having a blast. Jules has an odd, absurd, and totally engaging sense of humour. He's very intelligent and mostly fun to hang around with, telling great stories. (This was around the time that Jules created the "Unplugged" series for VH-1; he was the host of the show for its first season, and then, when guest Don Henley told the producers he didn't want a host, MTV decided it'd be cheaper to just let Jules go. Shitty: the guy creates a show that changes the music business, revitalizing the record industry in a short time, and the network turfs him.) The work we did was good, too. In two weeks, he and Danny and I came up with ten more songs, Jules supplying some of the greatest lyrics I've had the pleasure of singing, and Danny and I contributing some really good words of our own, and all of us writing the music together. The whole experience upped our game considerably—which continues, for me, to this day: I always want my lyrics to say something meaningful (to me), and to say it well. I have said that a mini-Jules Shear sits on my shoulder when I'm writing songs, urging (or shaming) me into writing better words.
Capitol was pleased with the results, but as people who seemed to  wanted us to go back and write some more with Jules. This time, Matthew would join us, too, so the three of us headed back to Northampton. At the Toronto Island airport, Matthew—having a problem with authority, I guess—was detained for talking back to a US Customs and Immigration officer, and he missed our flight, possibly because of a full-body search (I don't remember, but I bet Matt does). By the time we picked Matt up at the Hartford airport later that night, Jules and Danny and I had written "'Til the Fever Breaks", the song that was to become the first hit single from our next album.
Recording in Mississauga, Mixing in New Yawk!
Finally, we had twenty-two songs demoed—forget about the other forty or so we'd written in the past year!—and we were ready to make our second album, once again at the Metalworks, in Mississauga, Ontario, with engineers Mark McKenna (Bruce Springsteen; Simple Minds) and Hugh Cooper (Dan Hill, Tom Cochrane) at the board. We mixed the album at Christmas 1989 in New York City, at a studio called Platinum Island on Lower Broadway. Other mixes were done at the Power Station with Scott Litt (R.E.M.) engineering. In New York, Danny, Matt and I–for we had to be there, right? Costing the band's recoupable fund $1000 US a day for almost two weeks–spent the time hanging out at the studio, staying at the Gramercy Park Hotel, where Daniel Lanois and Matt Dillon were also lodged. That December in New York was amazing: once again, we were in the "real world", the big time, even if we were only a teeny-tiny part of it.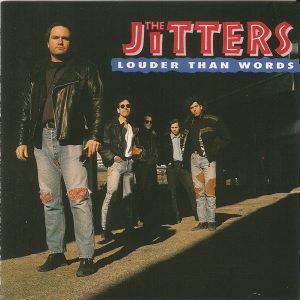 Bye-Bye Evan
The resulting CD, called Louder Than Words was to be released in July 1990. In April, Evan Adelman announced to us that he'd had enough of rock management (and probably specifically us, or maybe me. It's hard to say, because he never told us…)
This was a huge blow.
No amount of pleading would convince Evan—easily the hardest-working man in showbusiness, forget James Brown—to change his mind, so we were left, once again, to self-management. It was a critical time in the band's life.
Things were strange with the July 1990 release of 'Louder Than Words', what with our being suddenly rudderless, and considering the three years that had passed since our debut album's release. In a way, it was like starting over. The songs were much more serious than those on the first album, and the sound was more 'mature' (read: 'less pop' or 'better lyrics').
Still, we toured across Canada again, playing clubs and small halls, and our video for ''Til the Fever Breaks' was added at MuchMusic. And, there was management interest from Jake Gold and Allan Gregg, managers of Canada's by-then premier rock institution, The Tragically Hip. (Ironically enough, on a tour for our first album, the Hip opened for us and —me, being atypically arrogant—I pronounced them just 'okay'.)
Jake and Allan immediately secured us an opening slot playing soft-seat theatres opening for Colin James, very hot at that time with "Just Came Back (To Say Goodbye)". We crossed Canada again in the winter of 1990, and it was fantastic, though 'personal problems' began to affect us again, particularly Glenn's issues. This time, we decided we had to do something about it—but we were in the middle of a tour! We called in replacement drummer Jimmy Scotland to finish the Colin James stint. (Jimmy, formerly of Glass Tiger, was an excellent choice: good-humoured, he is also a strong player.) As we appeared at theatres across the country our video for "'Til the Fever Breaks" was climbing the MuchMusic charts, eventually reaching Number 4. It was such a slow and steady climb, however, that, week after week, the Jitters were featured on the chart show. This exposure probably helped us win a Toronto Music Award for 'Best Rising Star' that spring: together for nine-and-a-half years, we were still winning 'Rising Star' awards!
The spring of 1991 was difficult: Jake Gold is from the 'tour 'em 'til they drop' school of management, which is a proven road to success—just not so great for guys in their thirties who have been together in one form or another for ten years. (I mean, I was thirty-two and was the second-youngest in the band. Writing these words in 2023, in a new era when twenty-three-year old popstars are considered over the hill this seems incredible!) The work—and sometimes, the lack of work—started to get us down, and we found ourselves bickering and fighting a lot. When—after selling almost 40-something-thousand copies of each of our two albums—Capitol dropped us, we weren't very surprised. Actually, I was relieved.
The End (and a new beginning)
In the end, the Jitters went out with a whimper instead of a bang. But the final gigs were fun. Matthew declined to play the last few shows with us, which was probably for the best. We played a few gigs right up until New Year's Eve 1991/1992, and then…nothing.
In the mid-90s, we played four or five shows together, more or less all of us, but then, in the very late 2000s, starting with my 50th birthday in 2009, The Jitters started playing together again regularly but rarely; in other words, we get along just fine these days, but find it hard to make time for gigging together.
Danny Levy still plays guitar and writes songs, though he has made his living training dogs since the Jitters' breakup. Glenn Martin drums, and works with computers. David Quinton (Steinberg) is a successful entertainment lawyer who still plays drums as much more than just a hobby. Matt Greenberg got married several years ago (sorry, ladies!) and plays regularly in the Toronto area. Among other bands, Peter Nunn plays keyboards with Honeymoon Suite, another 80s act; they are still writing, recording and touring. Some days, The Jitters start talking about trying that same crazy nonsense, but inertia seems to reliably take hold…
—February 2023